My First Experience with McKinley Health Center
Unfortunately, it's that time of the year again. The weather drops drastically, college is in full swing, and you start to hear the sound of coughing and sneezing in every lecture.
That's right! It's cold and flu season!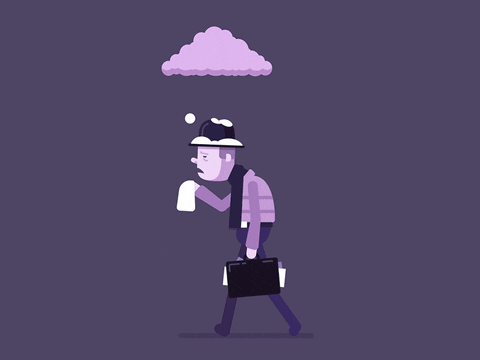 Being sick on campus feels a bit like this. Awful!
While I already have my flu shot (Which you can get too! See: http://mckinley.illinois.edu/fluclinic), it unfortunately didn't keep me from getting a cold from one of my classmates. I woke up one morning feeling awful, and instantly knew that I could not make it through the day without some actual medicine and some more sleep. After rolling out of bed, I headed over to McKinley in my pajamas.
Since I am a freshman, I had no idea what to expect from McKinley. If you're reading this, you may be in the same boat! To give you details on everything I loved about McKinley while I was there, I packed this post with the top five things I liked the most about my first McKinley Health Center visit.
1)A Clean and Organized Facility
When I walked into McKinley for the first time, I was greeted by clean floors and walls, an organized waiting area, and an overall organized feel. While I was feeling gross and disgusting from waking up sick, it was nice to be in a space that was well ordered.
2)Kind Staff Members
When I talked to the front desk and check-in area, both individuals at those locations seemed genuine when I listed my symptoms and asked for information about where I should go within McKinley. Not a single staff member, nurse, or pharmacist that I interacted with during my time at McKinley was rude or seemed disinterested in helping me feel better.
3)Quick Waiting Time
I believe my total time within the waiting room before I was seen by a nurse was around 10 to 15 minutes. And that was with not having any kind of appointment beforehand! The wait time obviously felt much longer while I was sitting there feeling awfully sick, but overall, I would say the wait was quick and reasonable.
4)The Pharmacy
After telling my nurse that I felt dizzy as one of my symptoms, she prescribed a tablet that would help. Instead of walking across campus, or waiting a few days for a prescription to be filled, I simply walked back out to the waiting area, checked-in with a pharmacist, waited a bit, and walked out of McKinley having only paid a very minimal fee. It was great! Picking up a prescription had never been easier, and the pharmacist took the time to make sure I knew how to take the medicine correctly and when to take it.
5)Understanding of Academic Concerns
While I was being seen by my nurse, I mentioned that I felt bad for missing some of my morning classes that day due to being sick. She reassured me that missing one day would be fine, and that taking care of myself and getting rest was more important than a lecture I had that day. She printed off an excuse letter that I could show to my professors to avoid any unexcused absences for that day, and she even wished me luck on all of my midterms!
I'm very thankful that such a wonderful resource such as McKinley Health Center is available on campus. Because of it, I felt better by the end of the day due to a few extra hours of rest and my nurse's advice. If you're ever feeling sick, make sure to visit McKinley for yourself.
Thank you for reading my blog post! Until next time, I-L-L!