As you are most likely aware, the admission notification release day is quickly approaching for our early action applicants. We have already had an exceptional group of students apply this year during our early action period, and we have started constructing a phenomenal class of 2023.
I want to take some time to give you all a few tricks and tips for what you should (and should not) be doing on the day that decisions are released.
1. Keep cool and do not panic. Remember to remain relaxed throughout the day and take time to take a deep breath or two if you need to. When it comes to actually checking your status in your myIllini account, please have some patience. Thousands of students are going to be logging into their accounts at the same time as you, so you may experience some technical difficulties. If you are having issues viewing your decision notification right away, I would encourage you to step away from the computer for a bit and listen to some of your favorite music or to go for a walk and then check back in later.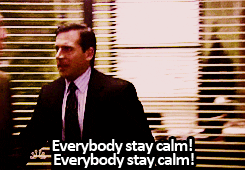 2. As a reminder, don't keep clicking refresh, as this will slow our servers down. Please remember that the more people who try to access their myIllini accounts, the slower it will run. So please make sure that you are only clicking once for your admission notification.
3. Try to access your myIllini account several days before decisions come out. This will allow you to ensure that you have the correct email, username, and password. Taking this precaution will allow you to then check your admission decision without any problems.
4. Remember that you are able to accept your offer of admission immediately. If you do wish to hear from other institutions you have applied to, receive your financial aid package, etc., you will have until May 1, 2019 to decide where you would like to enroll.
5. Keep in mind that scholarship information will not be included with your admission decision. The majority of merit-based scholarships are awarded within a few weeks after admission decisions are released. All scholarships should be awarded by March 15, 2019. If you would like more information, you can contact the Office of Student Financial Aid.
6. Our office will be available by phone for questions regarding your admission decision starting on Monday, December 17. Our hours of operation are from 8:30 am to 5 p.m. CST. While you are waiting, if you would like to know what each decision means, you can read about it on our website! Please note that we are unable to answer questions regarding admission decisions via email, so you will receive instruction to call our office for further information.
To wrap it all up, I want to extend a thank you to all who applied to the University of Illinois at Urbana-Champaign. We are very fortunate to have so many well-suited applicants apply to our institution each year, and it is our pleasure pleasure to get to know and work with so many of you. We are confident that you all are ready to rock n' roll in the next stage of your life. Hopefully it is here at Illinois!