First and foremost, congratulations, future Illini! We are so excited to welcome you all into the University of Illinois Class of 2024!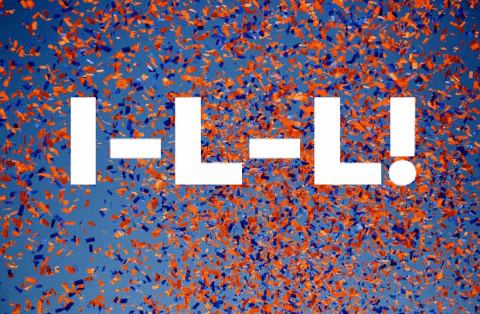 Now that the big news is starting to settle in and your mind is still racing (and maybe your heart too), you are probably asking yourself, "So now what?"
Here are some answers to questions you might have as you move through the next steps in the process.

What are my next steps?
Share the news with your parents, family, and friends if you haven't already. They will all be so excited for you!
Do a little happy dance. Your hard work has paid off!
Breathe and relax.
Now, log back into your favorite place, your myIllini account, and review your Admitted Student Checklist.
Visit the Illinois Admissions Admitted Students webpage and the International Admitted Student webpage.
Explore our various social media to see what life on campus looks like.
What is the Admitted Student Checklist?
Your checklist, which you can access through your myIllini account, is meant to help keep you organized as you move through the admitted student process. New items that need to be completed will appear once you have accepted your offer to join the Illinois Class of 2024! This checklist will be your best resource for the next few months.
When do I need to make a decision?
You can accept or decline your offer right now if you are ready. However, we understand that it is a big decision, so we want to be sure you feel like you have enough time to make it. Even if you applied early action, you have until May 1 to join the Class of 2024.
Take the time to ask current students about their Illinois experience, visit campus if you are able (if you are unable, check out my blog on great alternatives!), explore your major's website and the college's website, and just take time to reflect on where you want to study next year.
Do I get an acceptance letter?
We do not mail you a copy of your acceptance letter (officially called your Notice of Admission, or NOA). However, you will be able to download a copy of it. We will add it to the "Additional Information" section of your Admitted Student Checklist in your myIllini account within two to three weeks following your decision release.
When do I get a student visa?
No worries! We are also here to guide you through that process as well. Once you accept your offer of admission, there will be a new item on your Admitted Student Checklist: the I-20 application. We will start issuing I-20s in March once we have your I-20 application. You can check out our Obtaining a Visa webpage for some more information on this process.
We are here to help, and we want to be a resource throughout this entire process. Be sure to call us at +1 217-333-0302 if you have questions about your admission decision. We are happy to chat with you about it. If you have questions about your next steps, first log in to myIllini to see if the answer is there. Parents, also be sure to check out our parent's guide blog, Your Student's Notice of Admission: A Parent's Guide, for some helpful pro tips. If you are still confused, reach out to us!
Now, time to celebrate! Welcome to the University of Illinois Class of 2024. We are excited to welcome so many new students from all over the world to our campus!