Although my classes have been going great, it's nice that we're about to go on spring break. The first half of this semester has been a steady stream of busy days and hard work—I'm in dire need of a quick breather.
Nonetheless, I don't want to do absolutely nothing over spring break. I want to be able to hit the ground running when I come back. Thankfully, I found myself in a similar position last year, so I have an idea of what to do. Here's a couple of tips on how to spend your time efficiently on your week off.
Put in a little effort every day.
Professors are most likely going to give you a little bit of work to complete over spring break. Don't procrastinate and wait until 10 p.m. on Sunday to do it!
I've found that an hour or two of work each day isn't hard and gets a lot done. Every morning, force yourself to type a single paragraph or finish one problem set. By the end of the week, you'll have a finished piece of homework ready for submission.
Go outside!
If you're going somewhere warm like Florida for spring break, this step is probably going to be pretty easy to accomplish. However, if you're going home or staying on campus, it might be pretty tempting to sit on the couch all day.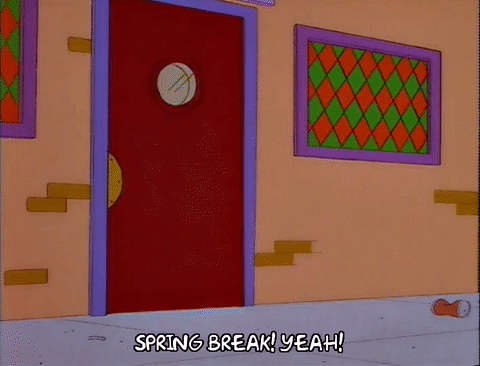 Make sure you find the time to go outside! Binge watching Netflix is fun, but not exactly healthy. Hang out with friends from high school or go on a run—just get out of the house! Plus, you might find that actually doing something will make you feel productive and want to get your homework done.
Most importantly … find time to relax.
While it is important that you do get a little bit of work done during spring break, it's more important that you're refreshed by the time school starts. The second half of the semester will be just as hard as the first, and you need to be recharged and ready to go.
Play video games. Finish watching that TV show. Lie on your bed and scroll through your phone for a couple of hours. Whatever you decide to do, make sure you're not stressed out and that you're enjoying yourself. You deserve a break.